Katy Evan I think I love you!!! YES. I think this may be My favorite book I have read in a very long time. Yep I'm totally in love with Remy!!!! I just freaking loved this story!!! I read it in one sitting!!!!
this was me!!!!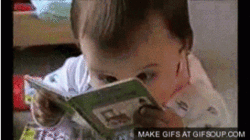 Something strange happened for me in this book. I actually loved the heroine! That doesn't happen often. Brooke is just awesome and normal! She is driven and funny and smart. Thank god because I am so sick of doormat female characters!! Brooke had her life aspirations taken away from her but instead of wallowing, she changed her plans!!! She picked herself up and did something with what she had going for her. Where did her decisions lead her??? On the path to Remington Tate. She challenges him. She gives whatever it is he is throwing her way, right back to him. She also sees beyond the fighter that Remy is, she sees him, as a man and really, just a person.
Oh Remy Remy Remy, how I love you so.....
Remy is just plain SEX. Sex on a stick...with chocolate...and sprinkles...and everything sinful. He is also too sweet for words!! ha! See what I did there?? I just loved him. He had a shit childhood. He learned to deal with it in his own way. He doesn't communicate very well through words, so he finds the most romantic ways through music to express himself to Brooke. The thing I loved is that even though he has some things he didn't want Brooke to know, he really wasn't hiding. He wasn't lying. He tried his best to communicate to her in the ways that he could. I wanted to hug him, kiss him, lick him, and comfort him all throughout the book.
The chemistry between Brooke and Remy is HOTNESS!!!! Exploding fireworks on the Fourth of July! I really was never bored with this book. Never once. It totally consumed me. I soaked the entire story up not wanting it to end.
Katy Evans, you rock lady!!! I cant wait to read more about Remy and Brooke and I cant wait to see what other stories you have in that head of yours. REAL is amazing and for it to be your debut??? HOLY SHITBALLS AMAZING!!!
The sequel will be out in October 2013!!!